The
Matte White Screen
–
Front Projection Screen
You Need!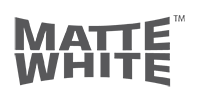 Whiter Than Any Other Matte White
Matte White is a quality front projection screen which is ideal for viewing films because of its widespread and balanced screen gain of 1.1. It has an optimal diffuser and disperses light perfectly, enabling widest viewing angles. Matte White is even compatible with the High Frame Rates.
These front projection screen is whiter than any other matte white screens available in the market and have a longer lifespan due to its unique formulation.
Download Matte White Data Sheet
Download Matte White Data Sheet