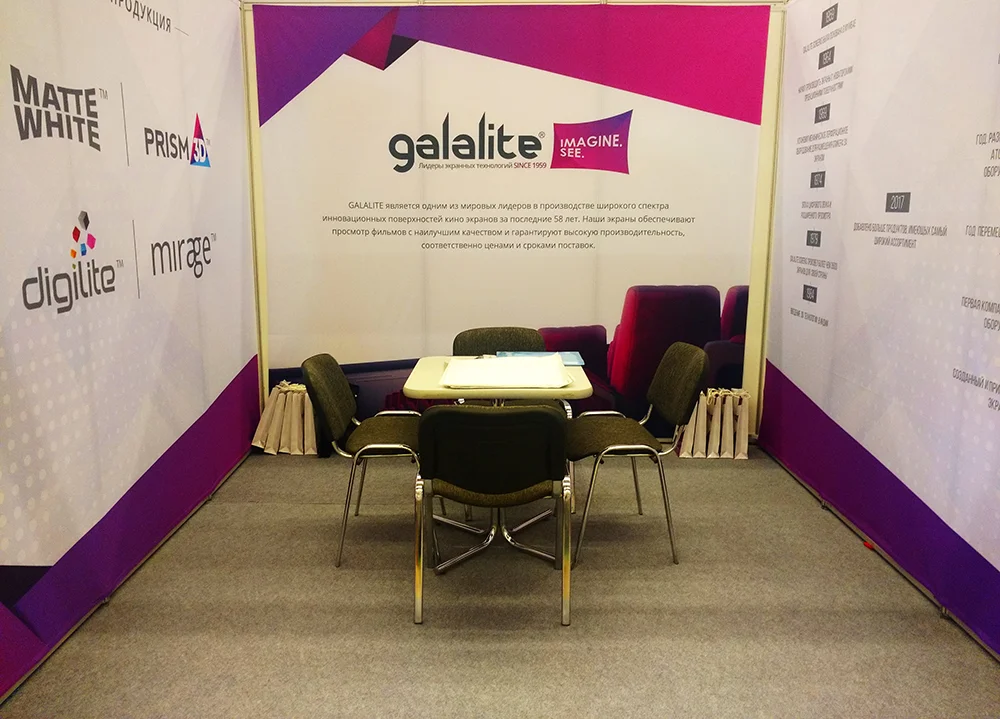 Mumbai, September 25, 2017- Galalite, India's leading cinema screen technology company's second visit to Kino Expo was just as successful as the first.
The Kino Expo to held from 19-22 September 2017 at St. Petersburg, Russia is the world 's 3rd largest international film exhibition industry convention and a  gateway to one of the world's fastest growing cinema / TV / digital media and entertainment industry markets of Russia and its neighbouring CIS and Baltic countries. The 4-day event saw many distinguished visitors from the film exhibition industry visit the Galalite stall to marvel at the Screen of Tomorrow- Mirage.
Speaking on the occasion, Ms Siranush Hovhanissyan said, "Our second visit to the beautiful city of St. Petersburg has been another great success. We are overjoyed and humbled by the great reception our Mirage screen has received at the Expo and look forward to converting the many leads we have received into our cherished clients. We look forward to repeating our success again next year."
About Galalite:
Galalite®, is the flagship brand of GTC industries which manufactures the widest range of innovative Projection Screen surfaces across the world.
A family owned business since inception in 1959, and head-quartered in Mumbai, Galalite® has emerged as one of the largest suppliers of screens to Exhibitors worldwide.
Galalite's specialized screen surfaces range from Gain Screens for digital compliant cinema systems to the latest 3D technology Silver Screens, from large format screens for Cinema Theatres / Large Events to Home Theatre Screens.