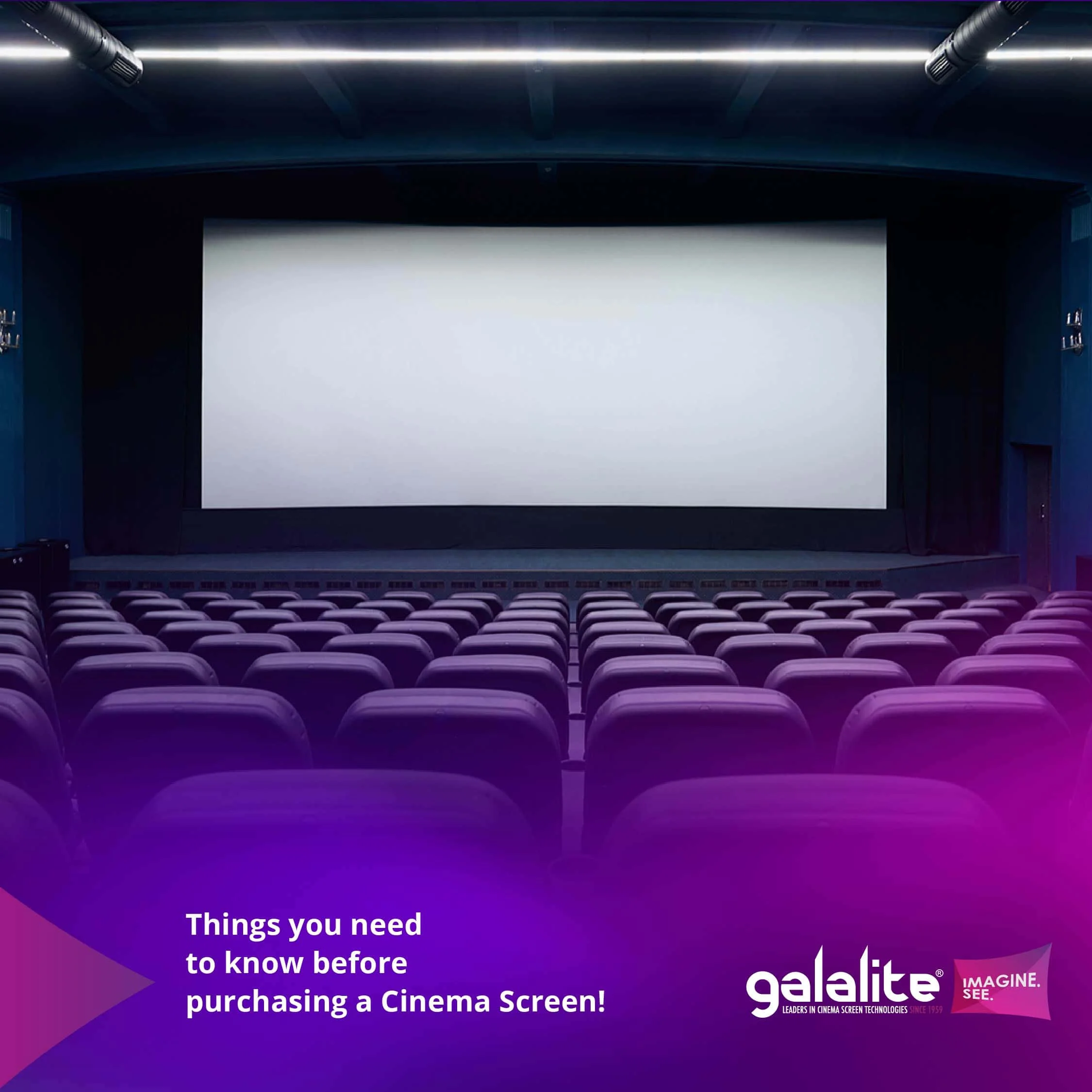 Cinema Screen is the biggest investment you make for your theater. 
Finding a screen that makes your audience fall in love with your theater is definitely not a cakewalk.
As a Cinema Hall/Theater owner or anybody who is on the lookout for a perfect Cinema Screen, you would want to make sure that you have tick-marked all the checkboxes that define the criteria to buy that perfect screen.
Here, in this article, we've tried to break down the factors you need to add to your checklist and verify if you're paying enough attention to them.
Let's get started.
What kind of product do you want?
This will be your center of attention. What kind of a product are you exactly looking for?
In your case, we are referring to a Cinema Screen when we say product. 
Now, there are 2 types of front projection screens:
Front Projection Screens
2D Projection 

3D Projection
For instance, we at Galalite Screens have a Front Projection Screen called Digilite (2D Projection) as well as a 3D Projection Screens called Prism 3D & Mirage XDL 1.2.
You need to decide what kind of screen you desire for your cinema hall & accordingly go for the one. In case you're not sure which one would be the best choice, you can always choose to consult with the manufacturers/suppliers of the screen, provide them with all the details of your cinema hall & get their guidance.
You can refer to our article which briefly explains the above cinema screen types: Types of Cinema Screens
How are cinema screens priced?
The price of the screen will be equivalent to the premium experience it has got in store for your audience. Also, as we already mentioned, the price you pay for the cinema screen is not an expense but an investment. 
Another thing which is an important determinator for pricing the screen is – the life expectancy of the cinema screens!
Galalite Screens have a lifetime of 5-7 years. The light levels of the screen work at the best capacity during this period. The credit for this goes to our unique water-based coating technology which doesn't turn yellow like other solvent-based systems.
Our screens are always made with a promise that they will pay you back sooner than they expected.
Which screen is being talked about in the market?
When your product is good, trustworthy & delivers what you exactly promised, the customers become the brand ambassadors of that product.
While looking for a Cinema Screen, as a customer, you can look up to what people from the industry are talking about & what they prefer.
Other than this, you can do your own research as per your requirements, search for the brands that supply the kind of screens you desire.
For instance, if you're looking for a cinema screen that produces close to no hotspots while reflecting the visuals on the screen, your research will find you Mirage XDL 1.2 which is the world's lowest gain theatre projection screen. 
Similarly, if you search with an exact intent and a purpose, it will take you closer to reaching your dream cinema screen.
What's the process of making this product?
Not many people make it a point to consider this, & that's the lesson you need to take from their mistakes!
How does a brand make what they make? What's their method? What's the procedure? How do they deliver? What is the material used?
You must know the journey of the product before you make that product a part of your journey!
That's why recently we shared The Making of Our Cinema Screens so that our audience and all the curious cinema/theatre owners get an honest & transparent view of what it takes to make screens at Galalite Screens!
What kind of impact does the screen make on the environment?
As responsible citizens, we must take note of what goes into making everything we humans make in order to ensure we don't harm our planet earth. 
Therefore, even while selecting the screen for your theatre, you must check what kind of impact the brand you're choosing for your cinema screen is creating on the environment.
For instance, we at Galalite Screens use eco-friendly paints to coat our screens. The chemicals used in it are not harmful to nature in any way.
These were some of the things we as a cinema screen manufacturer would suggest you look into while you're on the quest of finding your ideal cinema screen.
To give you a brief idea of what we stand for: Galalite Screens is the leading Cinema Screen Manufacturers serving the industry since 1959 with its groundbreaking & premium products.
We help Cinema Owners with screens that deliver the most enhanced movie viewing experience to their audience. 
If you're looking to increase the footfall of your theater by constantly providing your audience with an experience 'like never before', Galalite Screens can help! 
Want to know more about us? 
Email us at info@galalitescreens.com or call on 022 2850 0681.
Got any more questions before you head on to purchase the screen for your cinema hall?
Put them in the comments below & we would be happy to help!