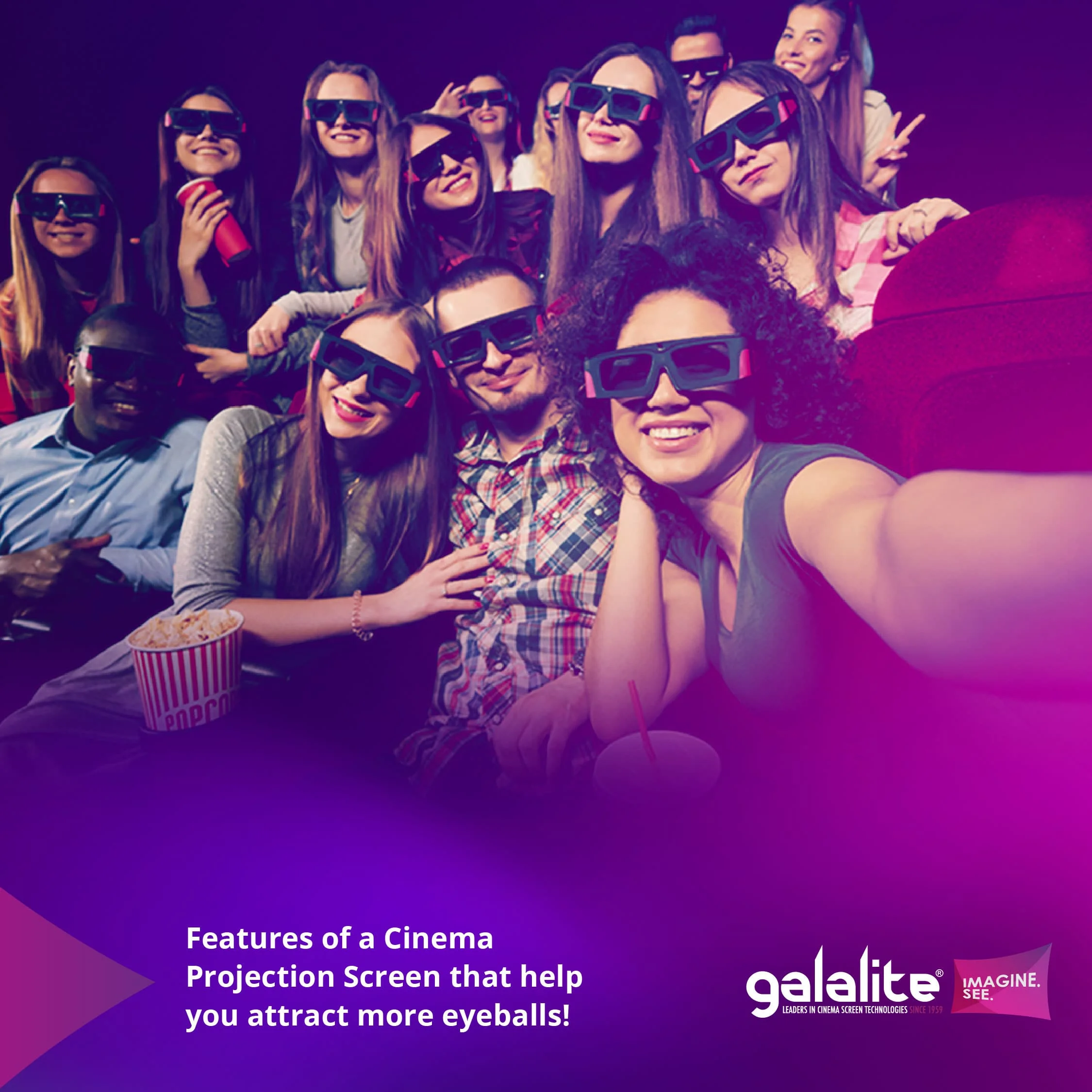 Cinema hall owners, what does an amazing cinematic experience mean for you?
Is it about a great storyline presented with an equally thrilling experience?

Is it about the picture clarity that makes you drop your jaw in awe wondering if the characters are performing right in front of you?

Is it about experiencing what you dreamt of while you were leaving home to watch the movie in your favourite cinema hall?
Wondering why we are asking these questions to you today and not to your audience? 
Because we believe you are 'your first audience'. So, if you know what you want as an audience, it would be easier for you to create a 'happy experience' for them by facing 'less struggles than other cinema owners'.
Therefore, we put our best bets on 'cinema screen' when it comes to finding ways to make your and our audience the 'happiest'.
Remember, a happy person is a regular audience.
But what makes them happy, you ask?
It's a holistic cinematic experience provided by cinema projection screens that determine how often they will come back to your theatre.
So let's understand the kind of features a cinema screen 'must' have in order to attract more and more eyeballs towards it consistently!
Before getting started with that, let us tell you a bit about Galalite Screens.
At Galalite Screens, we envision transforming the director's vision into reality through our groundbreaking cinema screens.
We envision helping the audience see what the director imagined while he was making the film.
In short, we make screens that every director would want his audience to watch his/her films on.
Coming back to our discussion, let's get to know what do these screens even look like?
They look like the screens that provide –
The Crystal Clear Clarity
We believe this is 'NON-NEGOTIABLE'. A cinema screen is recognized and appreciated primarily on the basis of how easily it lets you watch the content on the big screen. 
Being in the industry for over 61+ years now, this is something we build as a 'default' feature. Because we want every cinema owner that shows faith in our screens to have his brand's perception built perfectly in his audience's mind.
The Speckle-Free Experience
With the innovation of Galalite's Mirage XDL 1.2 in 2019, the world's lowest gain theatre projection screen was born.
It's no breaking news that every theatre owner's pain point is the 'Hotspots' occurring on the projection screen no matter how hard they try in selecting that 'perfect screen'.
Galalite's Mirage XDL 1.2 significantly reduces the speckle in laser projections leading to uniformity of the visual gain across the entire screen. 
The Best 3D Experience
Mirage XDL 1.2 also brings a brilliant 3D movie-viewing experience for its audience. The excellent manufacturing & finishing process we have at Galalite Screens helps the surface hold great polarization & contrast levels in both 2D & polarized 3D applications. 
The 'Future-Ready' Experience
Future Ready Screens so that you get to experience Tomorrow's Screen Today!
Going by our mission to stay at the forefront of technology innovation to provide only the best solutions to our customers, we have a habit of thinking for Tomorrow!
The content industry along with the cinema industry is changing so fast and we take it as our responsibility to bring you this new technology!
Our Mirage XDL 1.2, the future of laser projection, is the testimony of the same. 
The Deepest-Black Experience
The deepest black visuals just make a perfect addition to a speckle free cinema screen. 
It not just improves contrast for deep black but also offers uniformity from centre to edge.
This is all bring us to appeal you to –
Upgrade to the world's 1st and only RGB Laser Projection Screen which is available at Galalite Screens!
Lensray Technology led Mirage XDL 1.2!
Having set an inspirational benchmark for the next-generation screens, there's hardly a filmmaker/cinema hall owner who isn't aware of the power of Mirage XDL 1.2! 
Mirage promises almost every feature listed above in its unbelievably great version to movie buffs so that the next time a new movie releases, they would want to watch it only on Galalite Screens, which will be installed at your Cinema Hall!
Want to watch how it looks? Check out this video here: Want to increase the footfall of your Theater?
Dear Cinema Hall/Theatre Owners,
If all of these things made the 'movie buff' in you excited and want to go out and visit the big screens, we believe our screens have done their job well. Now, are you going to just listen to the endless success stories of them or would you go and get one of them for your theatre too to write your own success story with them?
If you're ready, write to us at info@galalitescreens.com
Can't wait till you get a reply to the email? We understand the excitement! Call us right away on +91 22 2850 0681 / 6802 / 3040