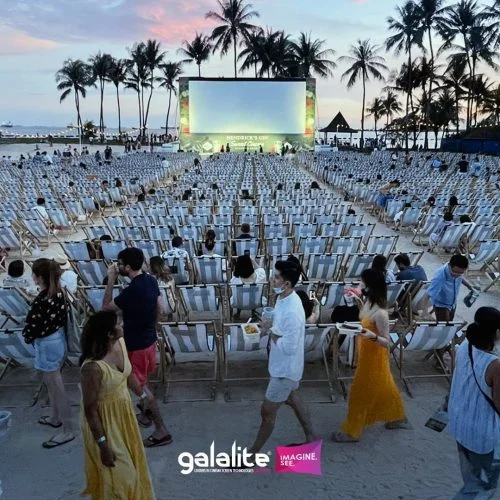 Watching your favorite movie, on a beach, with the most beautiful sunset sounds like a scene straight from the Nicholas Sparks book.
While a lot of people these days prefer Netflix and chill, nothing can ever compare to watching a movie on a big screen, under the stars.
The past two years have made people love the outdoors even more.
As things are slowly getting back to normal and people have been looking for safe outdoor options to enjoy the things they like the most.
Hendrick's took this opportunity and unveiled its return after a two-year hiatus, for a remarkable in-person movie festival organized on Tanjong Beach, Singapore – Hendrick's Sunset Cinema.
Along with showing the amazing and timeless movies on a gigantic screen, the event also brought along a complete luxe night-out experience with heady cocktails, delectable food, and tonnes of good vibes.
To deliver the ultimate and exclusive viewing experience Hendrick's Sunset Cinema partnered with Galalite.
Our whooping 16 MTR X 8 MTR screen on an open-air cinema setting along the beach, and fresh ocean air, created an unforgettable moment for everyone who attended.
While people were still skeptical of traditional theatre, this film festival was just the right occasion for people to enjoy a delightful eve, especially when it delivered the optimum quality of the projection, just what a cinema enthusiast dreams of.
Spectacular picture quality and a great sound system are what make or break a screening. The Matte White front projection screen from Galalite was a preferred choice for its best, clearest, and widest viewing angles.
It was just the right element to make this event a major hit. Its widespread and balanced screen gain of 1 enhanced the image quality and provided an amplified panoramic experience.
From June 23 rd to July 10th, 2022, the event showcased some of the most amazing, intriguing, and inspiring movies such as Belfast, The Alpinist, House of Gucci, Cyrano, Spencer, No Time to Die, and many more.