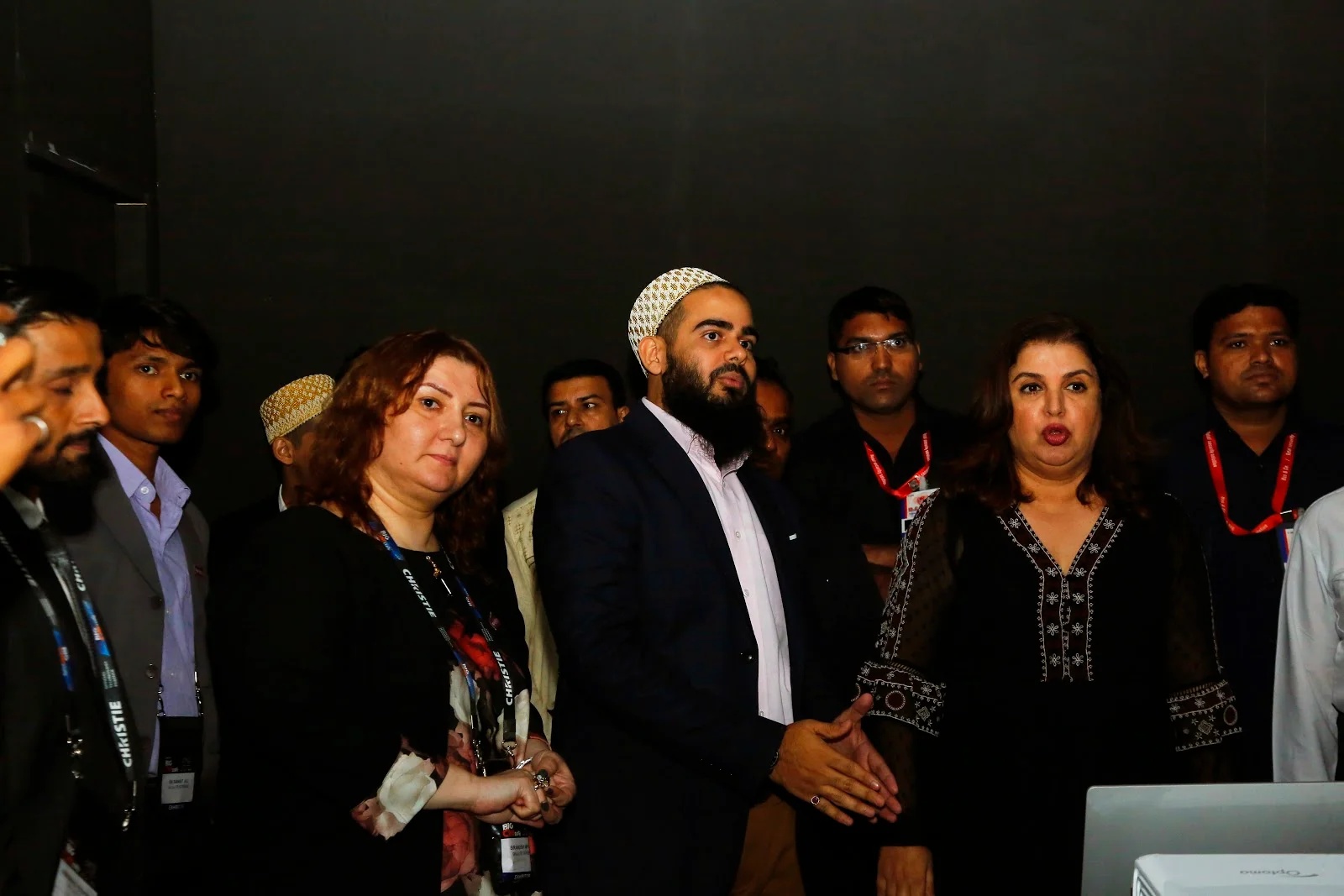 Farah Khan, the renowned choreographer and filmmaker in Indian Cinema scene, inaugurated the Big Cine Expo that took place at Bombay Exhibition Center on 27th and 28th of August 2019. It was a grand event where many notable people from the cinema exhibition industry came together to share their expertise on various topics. The expo also gave a platform to the exhibitors to showcase their products to their focus group. She visited the stall of Galalite Screens and enquired about the impact that projection screens have on the cinema viewing experience of the audience.
Khan explored various factors that cinema projection screens play in actually making the cinema come alive in front of our eyes. From having the correct projectors for the correct setting to distinct qualities that different types of projection screens offers, Galalite Screens offered her discrete perspectives on the subject. Projection screens play a crucial role in deciding how a movie would be perceived by the audience. Galalite Screens ensures that this experience remains of the highest quality for all the movie lovers.
Big Cine Expo, serving as an essential platform for all the industry people, was also a delightful experience providing insight to everyone who was present there. Talking about his experience and Farah Khan's visit to the stall, Yusuf Galabhaiwala (Director of Operations) said, "It was unreal to have that kind of dynamic personality at our booth exploring various elements of a cinema projection screen. We discussed about the types of projections, from laser to conventional large format films, and pondered upon the idea of how with upcoming technologies in filmmaking also requires upgraded cinema projection screen medium. She saw the impact that Galalite's latest screen Mirage XDL 1.2 can have on viewers, considering its uniformity and clarity it produces from laser projections and was highly impressed by it."
Big Cine Expo was a much appreciated event for every cinema exhibitor as it gave exposure to the people who actually bring the vision of filmmakers to the audience. Galalite Screens was also the proud title sponsor of the expo, ensuring each and every visitor had a comfortable yet splendid experience.
Completing 60 years now since its inception, Galalite is a leading name in the projection screen manufacturing industry that has been supplying projection screens to major digital as well as large format cinema service providers. Keeping up the global trends and latest technologies, this Mumbai based company makes one not only see cinema but actually feel it.