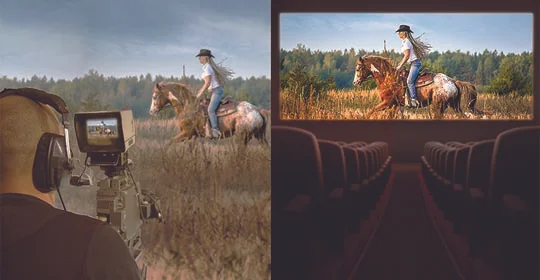 Galalite's 2016 campaign is testimony to why screen is the most important cinema component
Picture this- you're at the theatre, loaded with your favorite popcorn and a refreshing drink, all set to watch that movie that you waited so long for. The lights dim, the surround sound comes on and you make yourself comfortable in that plush recliner seat. And just when you ready to sink into the oblivion of a great movie, the picture on the large screen comes on, and it's grainy and dull, and simply doesn't match up to everything else. Terrible cinema experience, right? Well, that's what Galalite is here to prevent.
Having been around for decades, Galalite knows exactly what goes into the making of an excellent projection screen, and has perfected the art to ensure millions of movie fans around the world enjoy a thrilling cinema viewing experience. In order to promote the importance of screen technology and what it does for films, the company's new campaign – #ScreenIsKing, will focus solely on this.
Galalite Screens has seen projection screens evolve from cotton screens way back in the late 1950s to today's technologically advanced screens that bring pictures to life. Addressing the advancements of screen technology, Galalite Screen's Director of Operations – Yusuf S. Galabhaiwala says, "It is important for our customers (Cinema Owners) and our customer's customers (Movie Goers) as it keeps them coming back for better cinema viewing experience."
Explaining the reason behind this year's campaign- #ScreenIsKing, he says that the screen is the most important part of a cinema experience, yet it is ignored. Movie goers spend at least 90% of the time looking at the screen when watching a film at the theatre, and a low quality screen can ruin the whole experience. Unfortunately, most movie-goers are unaware of the importance of screen and screen technology. "That is why we have decided to bring the #ScreenIsKing campaign to people this year," adds Galabhiwala.
As one of the leaders in screen technology, Galalite constantly strives to enhance the cinema viewing experience through its advanced and innovative products. Having already served a number of clients, Galalite is fast becoming the preferred choice for cinema screens around world.
So the next time you enjoy a larger-than-life cinema experience, you'll better appreciate the craftsmanship that goes into creating each component of a perfect film, from locations to cameras, sound effects to brilliant acting, and most importantly- the projection screen.