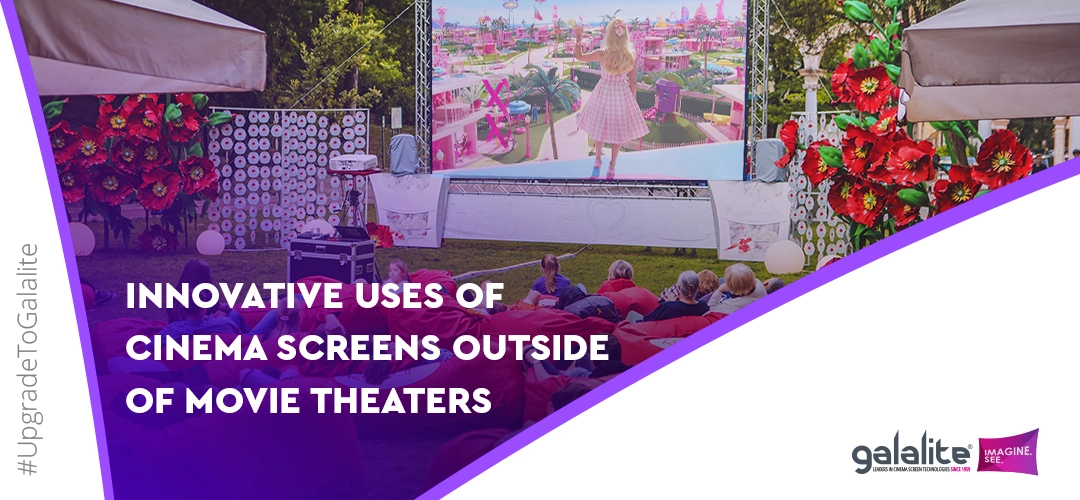 Cinema screens are no longer just for traditional movie theatres. Thanks to advancements in technology, these screens can now be used in a wide range of settings for various purposes. Galalite, a leading manufacturer of cinema screens, is at the forefront of designing and producing screens that can be used in diverse applications. In this blog, we will discuss the innovative uses of Galalite cinema screens outside of movie theatres and how they can benefit different industries.
Galalite Cinema Screens for Diverse Applications-
Galalite has a range of cinema screens designed for diverse applications. Here are some of the screens that they offer:
Mirage XDL 1.2 – The world's lowest gain theatre projection screen, specially crafted to reduce speckle in laser projections. This screen maximises black levels on-screen and offers unrivalled clarity to movie-goers.
Mirage Screen – A 2D and 3D cinema screen featuring Galalite's 4th generation screen technology, this screen brings excellent 3D effect and depth and a strong signal-to-noise ratio. This screen is also eco-friendly and compatible with 2K, 4K D-cinema and E-cinema.
Prism 3D – A perfect silver projection screen that supports passive 3D projection using polarized light and provides a strong signal-to-noise ratio, which enhances 3D performance with Galalite's unique Lensray technology. This screen also supports 2D projection, which features mighty seam welding providing a smooth surface for a seamless viewing experience.
Digilite – A versatile 3D projector screen enhanced for Active 3D applications and Digital 2D projections. This screen is perfect for digital and HFR technology and comes in various gains like 1.4, 1.8 and 2.2. Digilite screens are whiter, giving wider viewing angles. The screen's smooth surface boosts focusing capabilities, making movies watch-worthy.
Matte White – A quality front projection screen that is ideal for viewing films because of its widespread and balanced screen gain of 1.1. It has an optimal diffuser and disperses light perfectly, enabling the widest viewing angles. Matte White is even compatible with High Frame Rates and has a longer lifespan due to its unique formulation.
Innovative Uses of Galalite Cinema Screens-
Galalite cinema screens are being used in various innovative ways outside of traditional movie theatres. Here are some examples:
Outdoor Advertising

– Galalite cinema screens can be used for outdoor advertising, as they provide a larger-than-life display for digital billboards and LED screens. These screens are perfect for displaying high-resolution images and videos, even in bright sunlight.
Art Installations –

Galalite cinema screens are also for art installations. These screens can create immersive and interactive experiences, allowing visitors to become a part of the artwork.

Live Events

– Galalite cinema screens are also being used for live events, such as concerts and sports events. These screens provide a high-quality display for the audience, allowing them to feel like they are a part of the action.

Outdoor Cinema

–  Outdoor cinema is a type of movie theatre experience that takes place outside, often in a public space like a park or courtyard. It's a fun way to enjoy a movie with friends and family while enjoying the outdoors. Galalite partnered with Hendrick's Sunset Cinema in Singapore, for a relaxing and calming experience along the beach. (read more here –

See how Hendrick's Sunset Cinema along with Galalite Screens put on a surreal Film Festival from June 23rd to July 10th in Singapore

)
Benefits and Challenges of Using Cinema Screens in Alternative Settings-
Using cinema screens in alternative settings has its benefits and challenges. The benefits include:
High-quality display

Engrossing experience

Large display area
Challenges-
Challenges such as the need for weather-resistant screens for outdoor installations and the proper setup to ensure optimal viewing angles and lighting conditions can arise. 
Galalite's cinema screens are designed to address these challenges. With their durable and weather-resistant materials, their screens can withstand various outdoor conditions, making them perfect for outdoor events and advertising. Additionally, their screens are designed to provide optimal viewing angles and lighting conditions, ensuring the best possible viewing experience.
Conclusion-
Galalite cinema screens have come a long way since their traditional use in movie theatres. With their innovative technology and unique features, they are being used in various settings such as art installations, outdoor advertising, and live events. As technology continues to advance, it's exciting to see how Galalite will continue to expand beyond its traditional role in movie theatres and make an impact in diverse fields.