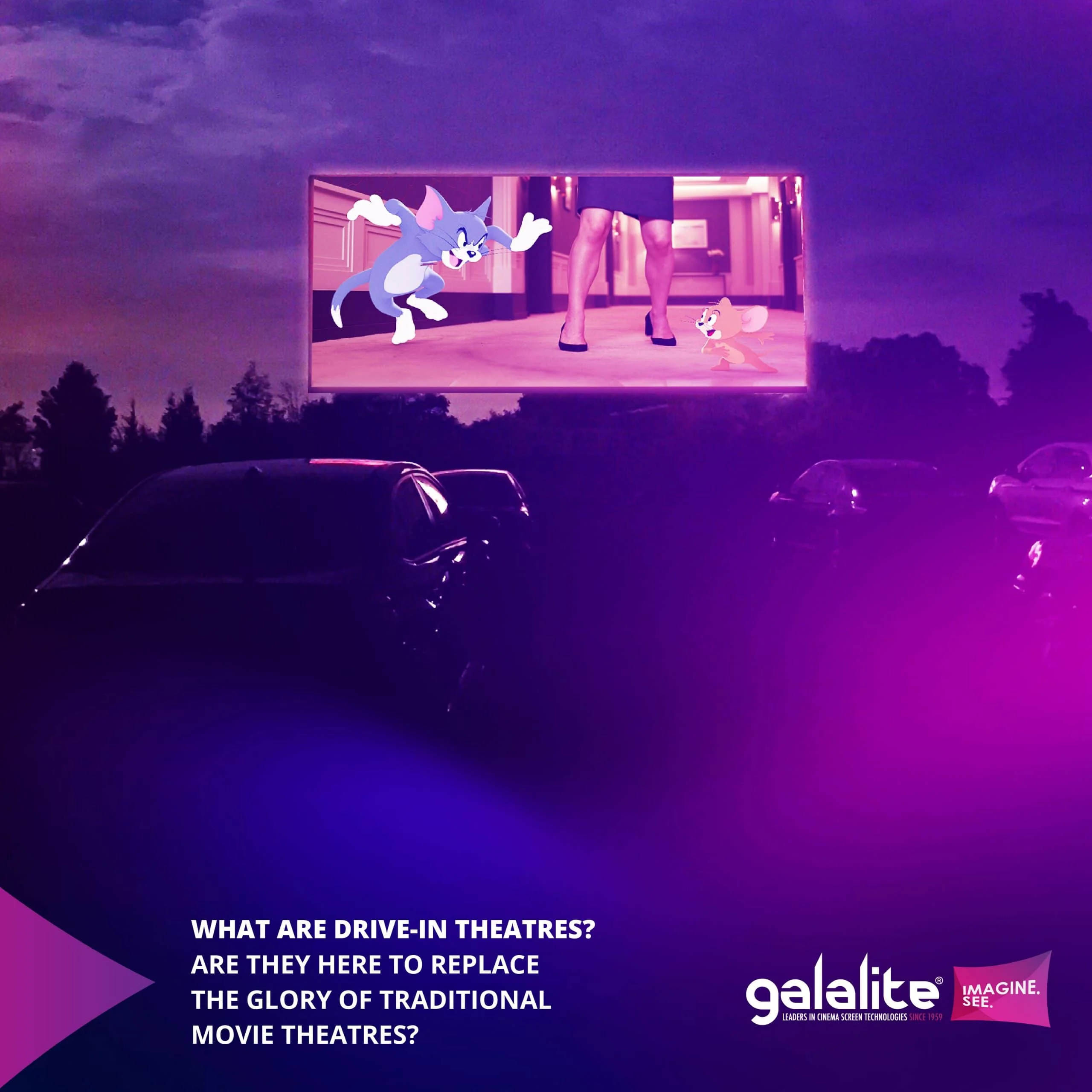 Have you been to a Drive-in Theatre ever?
To anyone who has never heard of this before, a drive-in theatre or even known as a drive-in-cinema is just like your cinema hall, with a movie screen, projection booth and a concession stand but with a twist. 
And the twist is it is an outdoor cinema setting that allows the audience to watch movies from their vehicles itself.
***Insert a picture of drive-in theatre here*** 
This is conducted in a large parking area where the audience can view movies from the comfort of their vehicle and privacy. 
Some drive-in theatre structures also have small playing areas for children or a few benches.
Let's discuss what drive-ins have to offer and what not with some pros and cons!
Pros!
You finally have that privacy!
Remember that baby crying in the theatre you always heated? Yes, that's something you won't have to experience at least in drive-ins. 
Since everyone is in their own vehicle, nobody even gets those embarrassing stares for expressing that 'Whoa, how did this happen suddenly?' too loudly. 
Basically, you can just be yourself and nobody will mind. 
Don't want to wear the mask for the whole 2 hours? It's fine.
Except for the initial entry time and while exiting the location, drive-ins will not insist you wear the mask. You can sit back with the mask off and enjoy the movie.
In traditional movie theatres, the authorities are usually mandating to keep the mask on during the whole duration of the movie.
You can bring your own snacks
While we are not sure about all, some drive-ins do allow you to bring your snacks to the movies. To know if your drive-in allows it no, make sure to check their website or inquire while booking the tickets.
Exit is easier than expected
Unlike traditional movie theatres, you don't have to stand in long queues to  exit the theatre. As soon as the movie ends, you can back out of your parking lot and drive back home.
Cons!
In drive-ins, there's no facility to reserve a particular seat while booking tickets. It's usually the first-come, first basis, meaning you will have to accommodate the empty slot (whichever it is) when you arrive. So, to get the best spot for the best movie viewing experience, you may have to reach at least an hour early.
Distractive factors in the surrounding
Since it is an outdoor setting with a lot of cars parked together, there could be an occasional disturbance of lights, noise from neighbouring cars or sound by nearby buildings.
So, it definitely does not match that immersive and engaging experience the cinema hall has to offer you.
You may not like what you hear!
We're talking about the sound system here. The surround sound system, being one of the most important factors to make your movie experience a magical one, may not work as great in this outdoor setting as it does indoors in cinema halls.
Not all drive-ins have restrooms!
Oops! We know you didn't see this coming but since we're talking about the cons, we had to reveal this.
For the good news, some drive-ins may have mobile toilets but since they are portable ones, hygiene and cleanliness may not be what you expected.
So, are drive-ins going to be the choice of the audience in the #NewNormal?
"First, they need to find a property which can accommodate the vehicles. Projectors and Screens are expensive. The sound system is not the same as a cinema theatre would use.", Nitin Datar, president of Cinema Owners & Exhibitors Association of India, expresses his views as he believes the drive-ins will last only in this pandemic situation and until we have the traditional movie theatres reopen fully.
He also believes that drive-ins can happen only in cities and have no chance of existence in towns and villages.
While answering if drive-ins are a threat to traditional movie theatres, Abhijit Shah, the co-founder of 'Under the Stars', a drive-in theatre in Bengaluru, says, "The new drive-in culture is no threat to regular film exhibitors. We only play old films. The whole idea is to create an experience."
What we believe is both the systems, drive-ins and traditional theatres, have their own perks in store to offer you. 
As a movie buff, maybe you can't put anything over that immersive cinema hall experience or you simply can't enjoy movies the way you do with your caramel popcorn, experiencing the drive-in once while they're still here, won't really disappoint much!
Don't forget to share with us how it goes if you plan a movie at a drive-in!
Anything else you want to know about drive-ins? Drop your questions in the comments below and we will be more than happy to chat!