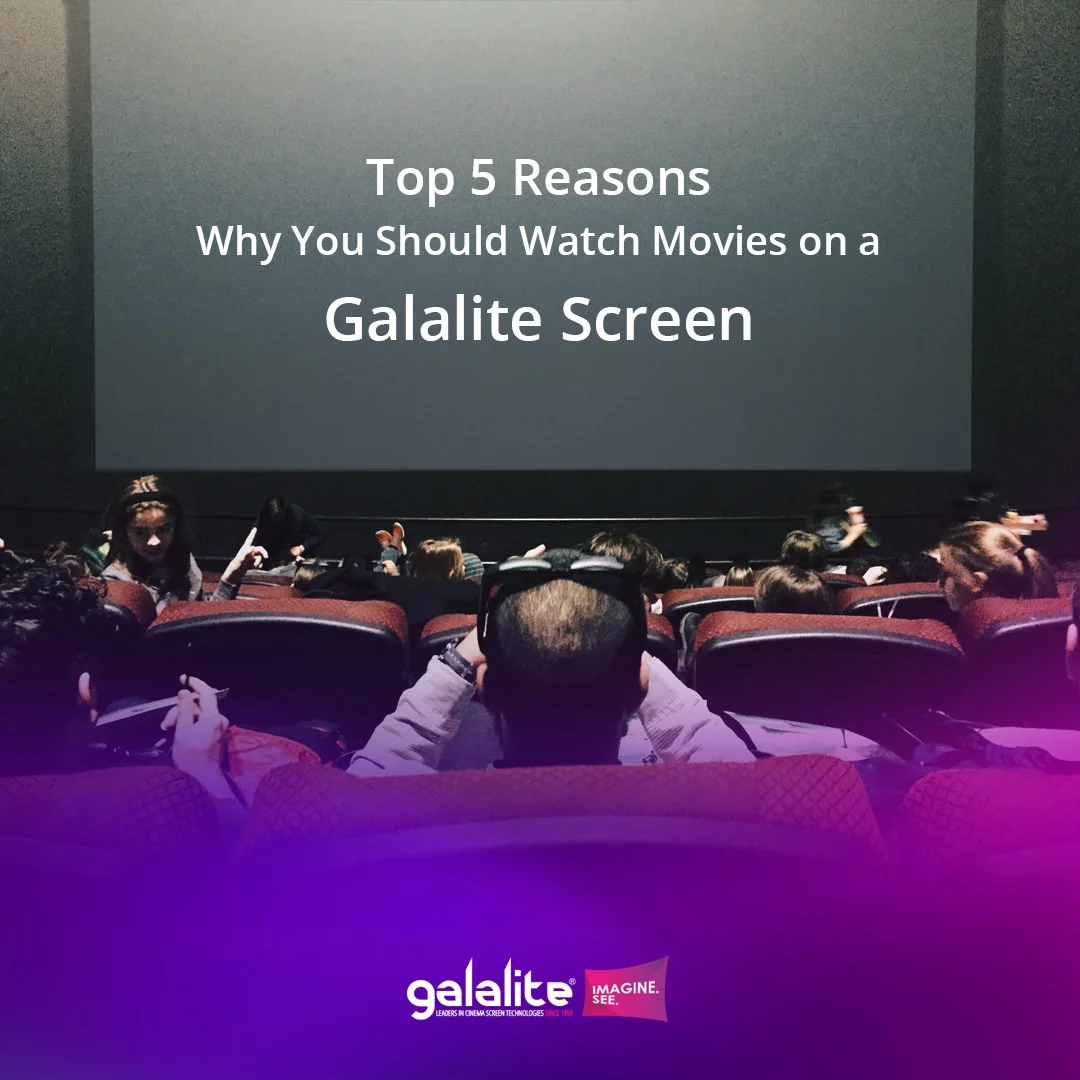 No matter how amazing OTT shows and movies are, the charm of the big screen is indescribable. Nothing beats sharing an experience of drama, comedy, joy, and sorrow in a darkened theatre with other people. And now that theatres have reopened in most parts of the country, there is no better time than now to hit the big screen again. But should your big return to the theatre be on a regular screen? Certainly not, when Galalite screens are available! Here are our top reasons why you should pick a theatre with Galalite screens each time.
1) Cutting-edge technology: Innovation and technology have been Galalite's mantra since its inception in 1959 and it shows. With path-breaking screens like Mirage, Mirage XDL 1.2, Prism and Digilite, Galalite has been providing tomorrow's technology today. So, it undoubtedly makes sense to pick the screen that is the most technologically advanced, doesn't it?
2) Zero ghosting: Imagine this scenario. You are set to make your grand return to the cinemas with a 3D movie. Popcorn in one hand, cold drink in the other, and 3D glasses firmly on. The film begins and oh no! Ghosting! Not the boo scary kind. The annoying kind where the images seem to be followed by a dimmer trail. There goes your money down the drain and your mood off. All this can be avoided simply by choosing to watch your movie on a Galalite screen like Prism 3D which guarantees zero ghosting effect. The unique Lensray technology developed by Galalite reduces light leakage that further prevents ghosting.
3) Brighter colors: Films are a visual medium and if the colors on the screen appear dull and muted then the experience has been a waste. For the director's vision to truly come to life, the color quality must be clear and sharp. A brighter screen also means that you don't spend time straining your eyes to make out what is happening on the screen instead of actually enjoying the plot. This is where Galalite's amazing screens come in. Every image appears crisp, clear, and bright. Just the way it was intended to be viewed.
4) Speckle-free experience: Nothing ruins a movie like unwanted interruptions. Like the speckle effect while watching a movie that is being laser projected. These small dots can be quite disturbing and truly a nuisance when trying to figure out the latest plot point. Thankfully, when you choose Mirage XDL 1.2, you can be assured of significantly low speckles and uniform visual gain across the entire screen.
5) Wider viewing angles: Got stuck with a corner seat? If you have chosen a cinema with a Galalite screen, there is no need to fret! Galalite screens come with wider viewing angles so every seat in the house is the best one. So you can sit wherever you want to and still get the same experience as the rest of the audience.
So, there we go! Top 5 reasons why you should choose a cinema with a Galalite screen for your next movie outing. Which movie are you planning to watch on a Galalite screen next? Tell us in the comments!