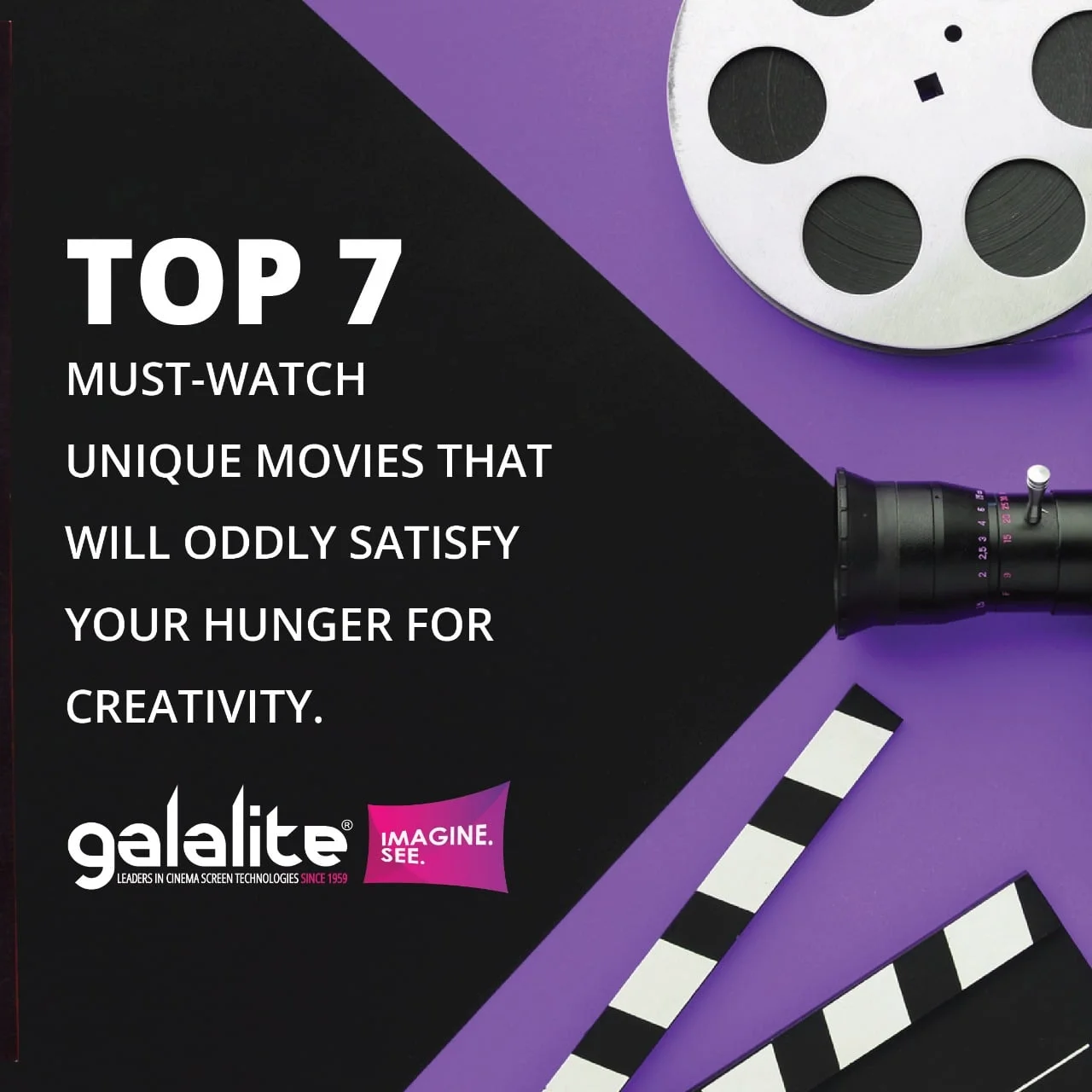 Top 7 must-watch unique movies that will oddly satisfy your hunger for creativity.
 "Our society does not approve of our love. Will live together or will die together" he said, and they shot each other.
Now, the fact is, 
There could be a movie based on other topics rather than a rich girl falling in love with a poor guy and their struggles to be happily ever after.
Bollywood has constricted us in boundaries and most of us don't bother to break those boundaries to get the real essence of cinema targeting different spectrums of life.
It can't always be about item songs and forced comedy to make a movie watchable. 
In this century where cinema has evolved, we are open to world cinema showcasing different cultures, different problems, and different ideologies artistically portrayed through the films. We must take a look into it to make our powers of imagination go beyond the restricted pseudo creativity.
Most of the people are unaware of the fact that there are some of the most artistically executed movies created and showcased in many film festivals but, only a few are exposed to that and most of the chunk is still watching decade-old unrealistic stories. Hence, to break that monotony. 
We have brought you some of the unique movies that are worth watching on cinema screens, Keep your tub of popcorn with you and get ready to experience something new, exciting, and flabbergasting.
A honey boy narrates a story about a child actor cherishing his stardom with his alcoholic dominating father. The story takes you on an emotional ride where all the emotions and critical situations startle you and make you think for a long time.
Watch it and it will definitely stay with you.
Source – Prime Video
An innocent Lebanese boy stuck in poverty, negligent parents, and the unbearable situation is forced to do an unfortunate thing and he is sentenced to jail for five years. In the end, he blames his parents for his depressing life.
You won't stop crying while watching this movie. The innocence of the child and the harsh situations will make your hormones go mad, keep lots of tissues before watching this movie cause this movie is surely going to shake you.
Source – Youtube
A simple story with not so simple execution. This movie talks about a young Bihari man named Anjani who shoes away monkeys in Delhi. The movie drifts slowly towards showcasing the outrageous behavior migrants experience in their life. 
This movie will leave you speechless and numb. 
Not explaining the plot of the movie. Just trust us and without even watching the trailer watch the movie. This movie is full of action, thrill, suspense, and exciting events filled with Robert De Niro's charm. 
Powerpack movie with an expressive baseline.
Source – Netflix
If you are truly fond of dogs and animated movies then, this is a perfect movie for you. Set in Japan, the story revolves around an innocent boy's journey and the search for his dog. A science-based fictional comedy movie will tickle your senses and will keep you awestruck.
An exceptional movie that breaks all kinds of creative restrictions and puts forward a story that is pure and full of mixed points of view. The movie has spirits, witches, extraordinary powers, and every unique thing which you won't get to see in any other animated movie. 
Some stories can't be narrated in words, this movie is exactly like that.
Source – Netflix
Titli will make your mind go mad. The story of a boy trying to leave his family business and stuck between the exhausting complicated drama will keep engrossed till the end. 
The movie has immense pace and incidents happen quickly and you go from 'OK' to 'OH MY GOD!'
Source – Prime Video
Conclusion 
There are a lot of unusual movies created and released. By watching different types of movies and different genres of movies we develop our creative visualization and we start to appreciate art. There is no bliss than watching a movie that FORCES YOU TO THINK. 
So? Are you set to watch some unusual movies?
Do you have any of your favorite unique movies?
Do let us know.
Also, no movie can be enjoyed watching on a low-grade cinema screen having blur projection and straining eyes effect. Galalite screens with its ultra power technology have clear laser projection and soothing effect making your movie-watching experience delightful and fun.