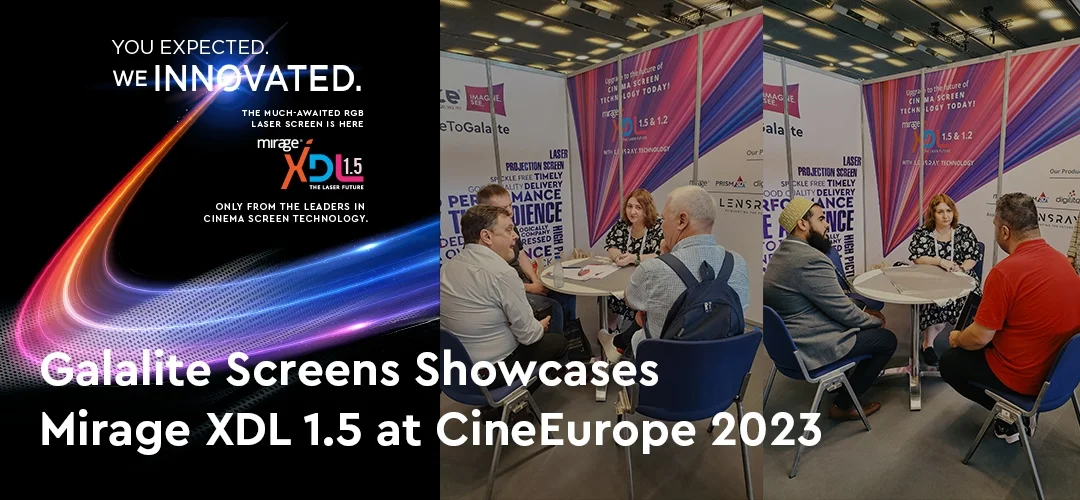 Galalite Screens, the leading Indian-based cinema screen manufacturing company, showcased its latest innovation at CineEurope 2023, the renowned convention for cinema operators in the Middle East, Africa, and Europe. This event took place in Barcelona, Spain, from June 19th to June 22nd.
CineEurope, organized by the Film Expo Group, is globally recognized as the gathering for cinema industry professionals, offering a platform to discuss trends, showcase products, and foster connections.
Galalite Screens unveiled its latest screen, the Mirage XDL 1.5, during the event. The screen features a 30% higher gain compared to the Mirage XDL 1.2, which results in vibrant visuals with minimized speckles, delivering a cinematic experience. The screen also maximizes black levels, resulting in improved contrast for engaging visuals. This RGB laser projection screen is equipped with Galalite's Lensray technology.
Reflecting on the event, Mr Yusuf Galabhaiwala, Director of Operations at Galalite, expressed his enthusiasm, stating, "We are thrilled to have participated in CineEurope 2023 and had the opportunity to launch our latest screen in the Mirage XDL series, the Mirage XDL 1.5. The response from the audience further affirms our commitment to delivering exceptional products that redefine the cinema experience."
Galalite's dedication to transparency was also evident at CineEurope. The company unveiled a comprehensive datasheet displaying the gain percentage in nine different parts of the screen, providing cinema owners and exhibitors with valuable insights that other companies often overlook by artificially boosting the gain on their screens. These readings, known as cumulative gain units, demonstrate Galalite's commitment to delivering exceptional visual performance.
Siranush Whyte, General Manager at Galalite Screens, expressed herself, stating, "At Galalite, we strive to enhance the cinema experience by developing future-ready screens, thanks to our dedicated R&D team. We are grateful for the cinema owners and chains that have chosen to upgrade to Galalite during this event."
About Galalite Screens:
Galalite Screens is a renowned cinema screen manufacturing company based in India & Poland. With a legacy spanning over 60+ years, Galalite has pushed the boundaries of screen technology, delivering solutions to enhance the cinema experience. Galalite's commitment to quality, innovation, and customer satisfaction has made it a trusted name among cinema owners and operators worldwide. 
For more information, please visit www.galalitescreens.com