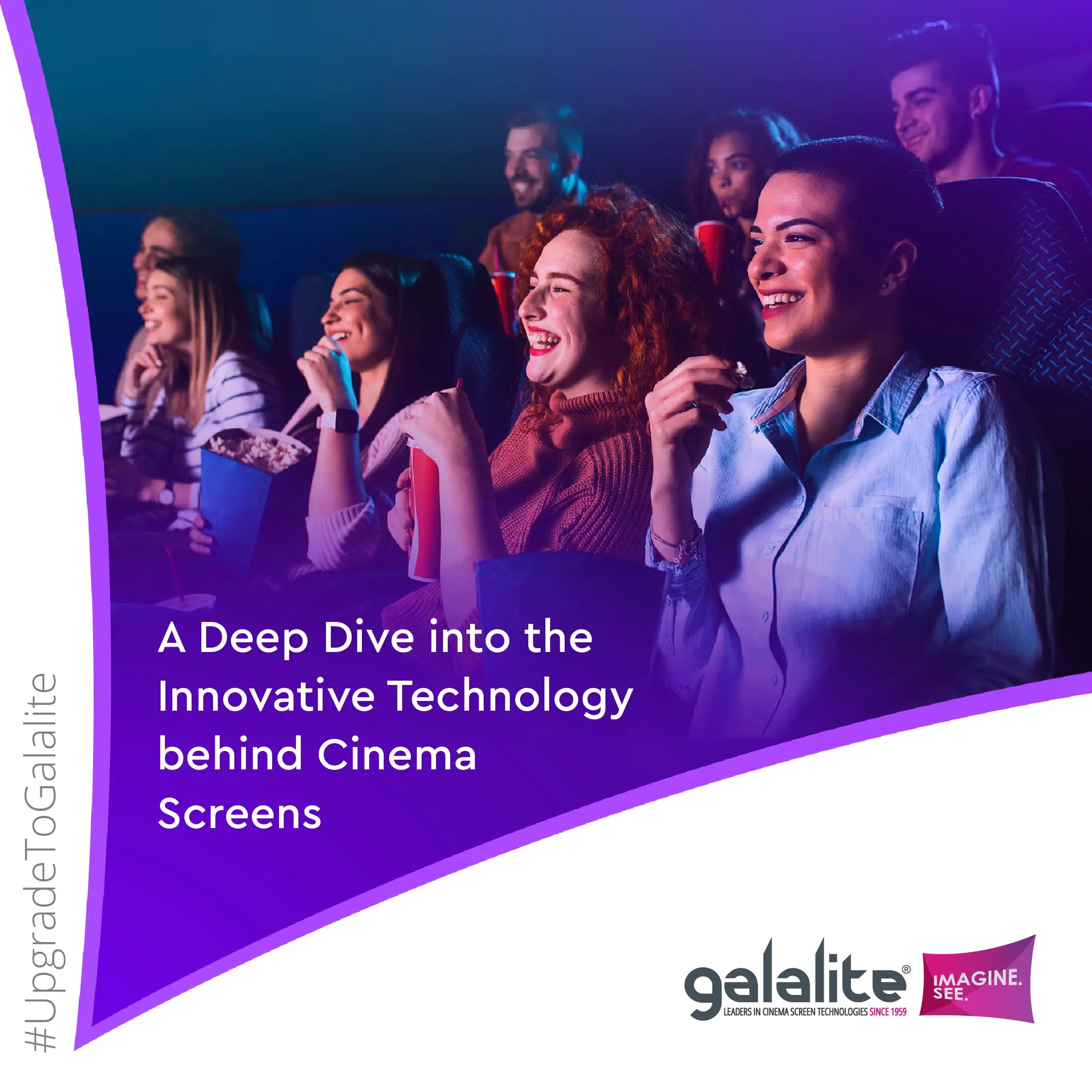 Innovative Technology behind Cinema Screens
---
Imagine watching your favorite movie in stunning 4K resolution, with colors that pop off of the screen. Galalite Screens is known for providing this type of cinematic experience. Its leading manufacturer of cinema screens with over 63 years of experience, has dedicated itself to producing screens that provide an unparalleled viewing experience. And accomplishes this in a number of ways, one of which is through the use of innovative LENSRAY Technology.
Lensray Technology
---
LENSRAY Technology is a Galalite-developed proprietary innovation that reduces visual noise, enhances viewing angles, and reduces hot spotting, thereby significantly improving the overall cinema experience. This technology uses a unique optical lens system that scatters light up to 20%, reducing the occurrence of hot spots and making it easier for viewers to see the image on the screen from any angle.
The benefits of LENSRAY Technology go beyond the technology itself. Galalite has integrated this technology into several of its screen models, including Mirage, Prism 3D, and Digilite. Each of these models is designed to enhance the movie viewing experience in different ways, such as by improving colour accuracy, reducing visual noise, or enhancing contrast.
Mirage
Mirage, for example, is a high-gain screen that uses LENSRAY Technology to produce vibrant and accurate colours, making it ideal for cinemas with large screens. Mirage XDL 1.2 – a cutting-edge theatre laser projection screen that boasts the world's lowest gain and has been expertly designed to reduce speckle in laser projections. Not only does it provide unparalleled clarity, but it also maximizes the black levels on-screen, resulting in an unforgettable cinematic experience for viewers. The Mirage XDL 1.2 is well-suited for RGB laser projections, which are at the forefront of next-generation screens. 
Prism 3D
Prism 3D is a remarkable silver projection screen designed for passive 3D projection using polarised light. It features Galalite's exclusive Lensray technology, which significantly enhances the 3D performance by providing a strong signal-to-noise ratio. The screen's exceptional ability to reduce leakage of light during cross-polarizer orientation enables it to deliver stunning 3D effects and eliminate ghosting. Prism 3D allows audiences to enjoy an immersive 3D cinematic experience like never before.
Digilite
Digilite

 ability to adapt to any cinematic experience ensures that you'll always enjoy the best possible picture quality, no matter what you're watching

.

With enhanced capabilities for both Active

3D and Digital 2D projections

, it's the perfect theatre screen for cutting-edge technologies like High Frame Rate (HFR). Available in a range of gains – from 1.4 to 2.2 – Digilite screens deliver crystal-clear whites and a wide viewing angle, allowing every member of your audience to see the action in stunning detail. Furthermore, the screen's smooth surface ensures that every frame is in sharp focus, so you can be sure your favorite movies look they're very best.
But Galalite's commitment to innovation does not stop with LENSRAY Technology. The company also uses a variety of other cutting-edge technologies in its screens, including 4K and 8K resolution capabilities, high dynamic range (HDR) imaging, and advanced screen coatings to reduce glare and increase image contrast.
About Galalite Screen
---
Mr. Yusuf Galabhaiwala, Director of Operations, stated,
"We believe that cinema is a universal language that can bring people together, and that's why we are proud to be a part of the global film industry, providing screens that help to create unforgettable movie experiences for audiences everywhere."
Galalite believes in maintaining complete control over the manufacturing process to ensure the highest quality standards. Galalite can closely monitor every stage of production, from material selection to final quality control checks, because it designs and manufactures its screens in-house. This dedication to quality and attention to detail is just one of the many reasons Galalite has established itself as a trusted name in the cinema screen industry, with a global reputation for excellence.
Galalite also places a strong emphasis on sustainability and eco-friendliness. The screens are designed to be energy-efficient, using recyclable materials that are environmentally friendly.
When it comes to movie screens, don't settle for anything less than the best. Choose Galalite and see the difference for yourself. Contact us today to learn more about their innovative technologies and environmentally friendly manufacturing processes.