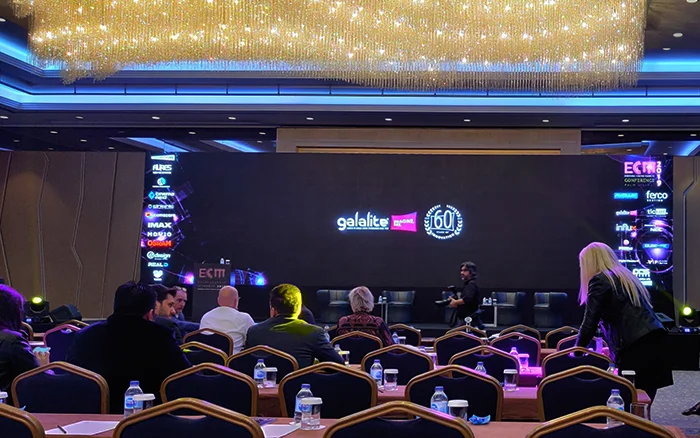 Mumbai, India 
This year, Emerging Cinema Markets Conference 2019 Istanbul focused on the continent of Africa. The emerging markets in Africa, Central Asia, and the GCC are at an early stage in the growth and development of their cinema markets, but in combination, they offer a significant opportunity for investors, studios, distributors, exhibitors and the specialist supply chains to the industry. ECM is an emerging conference that delivers an outstanding line up of international keynote speakers for a wide variety of areas, sharing in-depth knowledge and experience of operating within the emerging markets.
Galalite Screens had a formidable presence at the latest edition of Emerging Cinema Markets Conference 2019 in Istanbul on 19th – 21st November and was a proud retail exhibitor sponsor at the large scale international event. 
Talking about her experience Siranush Hovhannisyan, General Manager, Business Development, Galalite Screens, said, "Galalite Screens, a cinema screen manufacturing company is a global leader and with our extensive participation in such a wide-ranging international event, we got the opportunity to expand our horizons, to meet people from all over the world and establish a stronghold in the world market. The conferences like ECM 2019 Istanbul make it possible for new avenues to emerge and a chance to connect with like-minded people from the industry".
About Galalite Screens 
Completing 60 years since its inception, Galalite is a leading name in the cinema screen manufacturing industry that has been supplying cinema screens to major digital as well as large format cinema service providers. Keeping up the global trends and latest technologies, this Mumbai based company makes one not only see cinema but feel it. For more information visit: https://galalitescreens.com/  
Contact Information
Address: Unit # 8, Building 5A,
Mittal Industrial Estate, Marol,
Andheri (East), Mumbai – 400059, India
Head Office: +91 22 2850 0681 / 6802 / 3040
Fax: +91 22 2850 0683
Email: info@galalitescreens.com