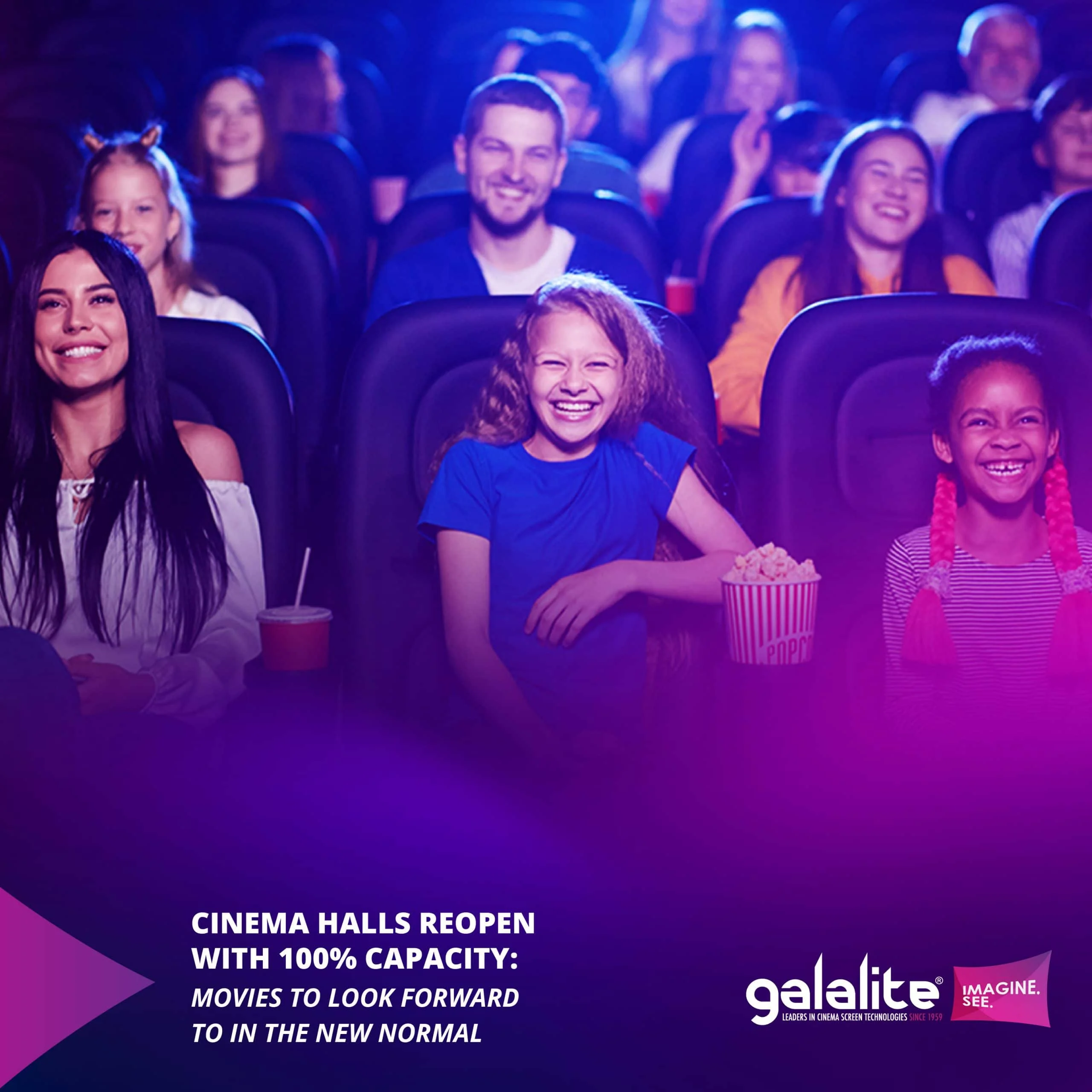 Movie buffs are on top of the world, and why wouldn't they be? 
After all, they got all the reasons to be!
By now, we all know that since the Coronavirus cases in India have significantly declined, the central government has relaxed unlock guidelines for the public and has allowed cinema halls to operate with 100% capacity.
To make this a safe experience for each one of us, a few things must be followed:
Mandatory face masks

Sanitization of the auditorium after every screening

Strict social distancing
Not just the cinema experience but also to make the whole experience safer, online ticket booking is encouraged.
Even we at Galalite Screens, request our audience to adhere to the guidelines and cooperate with the government in the best way possible.
On the other note, all the movies that could not see the light of the day last year and were kept on hold are set to release in 2021 now.
On a scale of 1-10, how much did you miss going to theatres and watching movies on the big screen?
We're sure it must be 11 if not more! ;)
Because not just you, but we are also looking forward to the experience more than ever!
Now that we are at it, let us quickly know what movies you simply can't wait to watch.
If you haven't thought of it or wondering which ones to go for, here's a list curated especially for helping you start your movie rounds with a bang!
Here you go!
Monster Hunter is going to be the first 3D release post the reopening of cinemas in India. Sony Entertainment is releasing it in 3D & IMAX and will be available in Hindi, English, Tamil and Telugu languages.
A fascinating story that takes you through the journey of Lt. Artemis and her loyal soldiers as they get transported to a world where they have to survive aliens. How the two heroes coming from different worlds defeat a danger will keep you hooked till the end.
Release Date: 5th February 2021 In India
Fauji Calling is a painful yet beautiful narrative of how life unfolds for the families of soldiers who sacrifice their lives in attacks. 
With brilliant actors like Sharman Joshi & Mugdha Godse and direction by Aaryaan Saxena, the movie explores various aspects of the life of a Soldier. A film that deserves to be watched on the big screen!
Release Date: 25th February 2021
A film that would bring back a million childhood memories!
The most hyped adventure film Tom & Jerry is all set to release in India in Hindi, Tamil and Telugu languages.
An adaptation of the earlier classic by Hanna-Barbera, the new release is a storyline revealing how Tom and Jerry first meet and form their rivalry.
Not just for kids or youngsters but this is going to be a treat for every age group present out there.
Release Date: 26th February 2021 (India), 5th March 2021 (Worldwide)
The remake of the 1998 German film Run Lola Run, Looop Lapeta is a crazy thriller-comedy starring one of the finest female Bollywood actresses, Taapsee Pannu.
This classic by Sony Picture India and Ellipsis Entertainment is a nail biter story about a woman who needs to obtain 100,000 Deutsche Mark in 20 minutes to save her boyfriend's life. Definitely one of the Must-Watch drama films of 2021!
Release Date: 1st March 2021
Action & Sci-Fi movie fans are in for a big treat of the year as Godzilla vs. Kong is all set to release on the big screen in March 2021!
An epic battle between the two most powerful forces of nature while humanity threatens to wipe out both the creatures, good and bad from the face of the planet forever.
Release Date: 26th March 2021
Which one are you excited for the most? We hope we've helped you sort out the dilemma.
Do let us know how fun it is to catch up on movies in the #NewNormal!
Got any suggestions for us? We would love to hear them in the comments below!