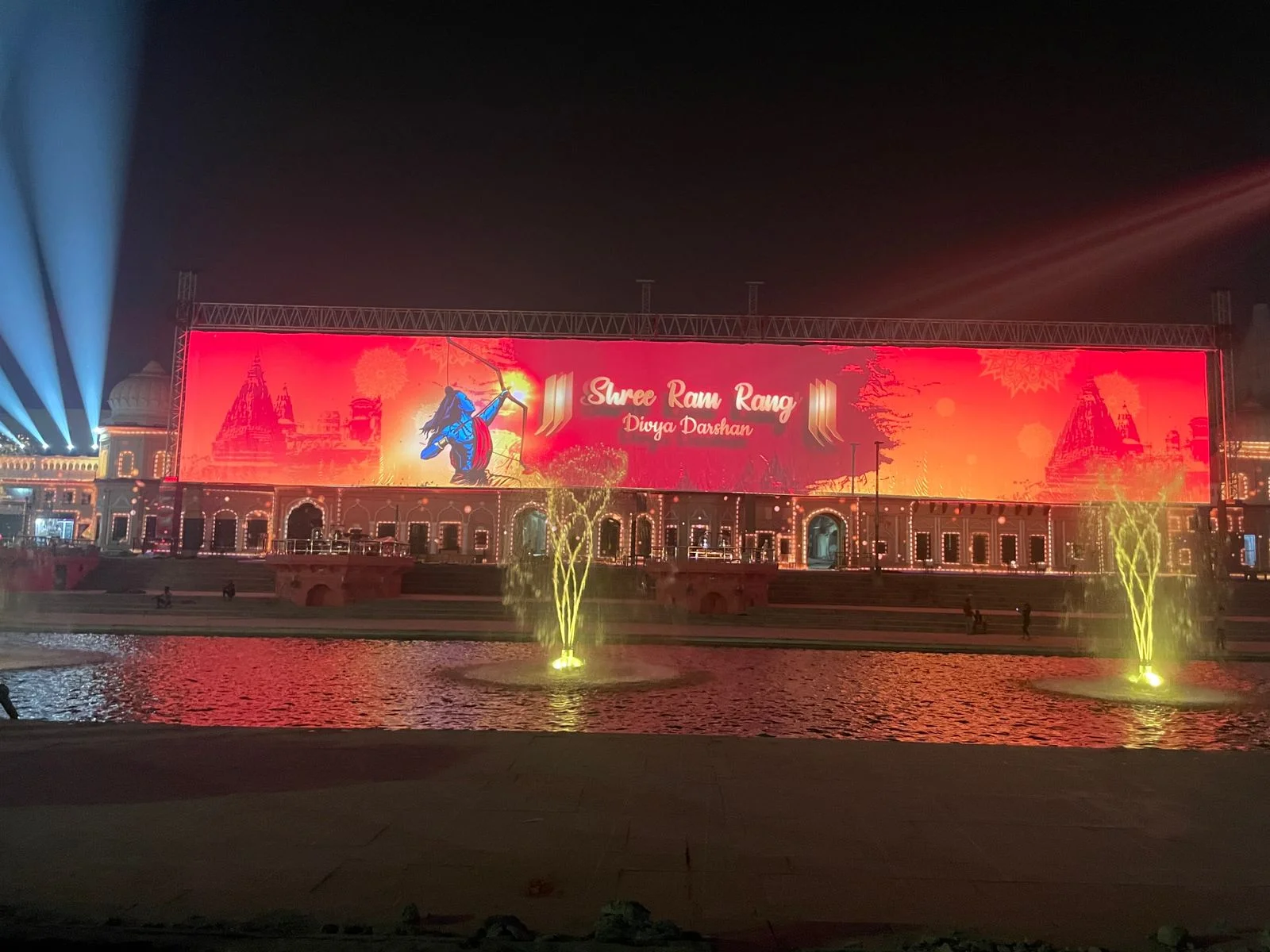 Galalite, a pioneering Indian brand with a rich legacy in cinema screen manufacturing since 1959, has achieved a significant milestone by installing the world's largest seamless cinema projection screen at Ayodhya's Ram Mandir. The screen, measuring an impressive 211 x 31 feet, stands as a testament to Galalite's commitment to innovation and excellence.
The proprietary surface of the screen boasts a unique texture designed to diffuse light across the entire projection surface evenly. Galalite utilized its cutting-edge Ultra Edge Seamless technology to seamlessly join the 48 parts of this colossal screen.
The production team at Galalite worked tirelessly around the clock to ensure the completion of the seamless cinema projection screen in just three days, after spanning 36 working hours in multiple shifts. This feat required the coordination of a dedicated team of 12-13 skilled professionals, showcasing Galalite's efficiency and expertise in the field.
The installation process, executed with precision, took the entire day, further highlighting the seamless collaboration between Galalite's production and installation teams. The screen now stands as a stunning visual marvel, providing an unparalleled cinematic experience to visitors at the Ayodhya Mandir.
"We are thrilled to have played a pivotal role in enhancing the visual experience at the Ram Mandir in Ayodhya through the installation of this world record-breaking seamless cinema projection screen," said Mr Yusuf S Galabhaiwala, Director of Operations at Galalite. "Our team's dedication and innovative technology have once again positioned Galalite as a global leader in the industry, pushing boundaries and setting new standards."
Galalite's commitment to excellence and continuous innovation reinforces its standing as a global leader in cinema screen technology. The successful completion of this ambitious project marks a significant chapter in Galalite's journey, as it redefines the possibilities in cinema screen manufacturing.
About Galalite: Galalite, established in 1959, is a renowned Indian brand and the leading manufacturer of cinema screens. With a legacy of innovation and a commitment to quality, Galalite continues to be at the forefront of the cinema exhibition industry, providing cutting-edge solutions that enhance the cinematic experience for audiences worldwide.