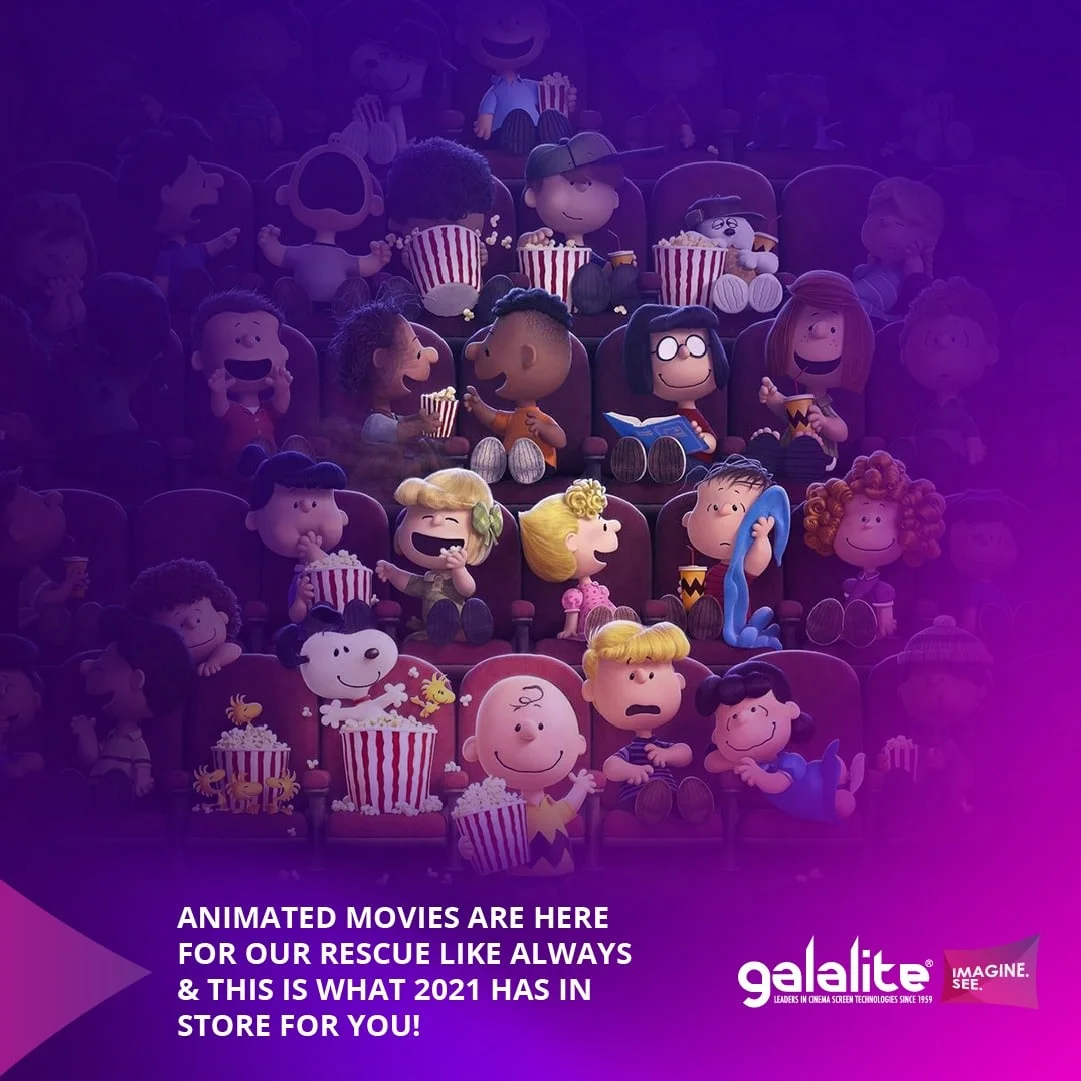 While the world was shut due to a global pandemic, movie buffs found their solace in animated movies. 
Why do we watch movies?
Some of the most common reasons you movie buffs give us always are –
To escape reality for a while!
To experience the world of our imagination!
To comfort ourselves..to be happy!
And what could be a better way to pamper yourself than watching an animated movie on a relaxed evening?
Tom & Jerry!
Raya And The Last Dragon!
The Croods: A New Age!
SpongeBob SquarePants!
They all ruled our hearts last year.
The most special part about these animated films is that they are not just for kids anymore. Any generation can equally enjoy and relate to the stories they bring up. After all, we all need some fun, right?
Some arguments also discuss that animated movies today are not as cartoonish as they used to be in the 90s. While we do agree to this to some extent, one thing we all need to understand is that 'times have changed and so is the cinema industry'.
With content and storytelling being presented in so many new and fascinating ways than they ever were, animated movies do have their share of evolutions too. Stories today may not seem that cartoonish but they seem real. More logical. More practical. Hence, more and more people are finding themselves engrossed in animated movies and not just kids.
The animated industry did not stop even during the global pandemic we experienced last year. In fact, while some live-action production films are still on hold, animated movies are becoming The New Trend! Although animation movies have their own challenges too, the industry uniquely seems to have found a way through to fight this #newnormal and continue to rock their work just like before.
The production meeting time was replaced with dress-up time on the virtual set of the movie Locksmith and 20th Century Studios last year. Animator Glen Keane who was directing his first feature film in 2020 with Netflix's Over the Moon, says that he was already communicating virtually with various production offices through video conferencing. So when Netflix's office got shut in March, he still didn't miss the deadline. 
"Everybody's trying to figure out how to do animation now. If you were really designing something to be done remotely, the animation is the perfect thing.", says Jean, a member of WME's literary packaging group, which handles movies and shows inspired by books and converts them into animated projects.
You see, the industry and the animators have only been inspiring us with their capability to adapt to the #newnormal quickly and produce masterpieces in a year like 2020.
2021 is even bigger!
Don't believe it? Here's what we have on our plates by the Animation Industry in 2021:
1.Bob's Burgers: The Movie (April 9)
The tail of adventures of hamburger restaurateur Bob Belcher and his hilarious family! The Belchers are all set to make their movie debut in Bob's Burgers releasing on April 9 on the big screens.
The most fascinating thing is that the entire work of the movie was completed remotely during the pandemic. This musical comedy will surely 'scratch every itch the fans of the show have ever had, says the director Loren Bouchard.
2.Minions: The Rise of Gru (July 2)
Do you love Minions as much as we do? Then you're surely in for a crazy ride on 2nd July with Minions: The Rise of Gru!
Some villains leave their legacy better than the hero does and one such hero is going to knock on our doors with this film.
Gru, a 12-year old dreaming to become the greatest supervillain in the world! It's going to be an exciting watch to see how his dream unfolds.
3.Space Jam 2: A New Legacy (July 16)
The happiness of 90s kids will have no boundaries when they'll know their Looney Tunes team is back after a long wait and how!
This sports comedy is about the basketball champion LeBron James and his young son being trapped in a virtual space & how they lead the notorious Looney Tunes to victory to get themselves home safe!
Catch this epic on 16th July on the big screens!
Peter Rabbit 2: The Runaway (April 2)
The naughtiest bunny is back in the city and this time with a crazier adventure than ever before!
As the name of the movie suggests, this James Corden-voiced bunny with his furry friends runs away from home and finds himself wandering in a big city where his mischief is rather appreciated!
So will he go back home when his family risks everything to come looking for him? Find out all your answers on 2nd April in theatres!
5.The Addams Family 2 (Oct. 8)
They look scary, wacky, and whatnot but they will be making your Halloween a lot crazier than you thought!
The Addams Family 2, sequel to the 2019 animated film, 'The Addams Family', is an unusual but interesting watch of all The Addams who get involved in creepy adventures!
Catch it on the big screens on 8th October 2021. The list could clearly not get better than this!
Which animated film or character excites you the most from this?
Do let us know in the comments below and remember to share this post with your friends and family too!
P.S. – The release dates could be different or updated for your location depending on the Covid-19 scenario in all the countries. So before you step out for the movie, we insist you confirm the date once. Rest, stay safe, and enjoy the movie to the fullest!