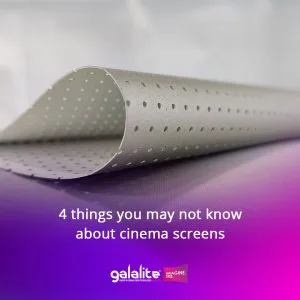 In a time when experience trumps everything in the entertainment world, you must begin with the core element, the screens. And extend an extraordinary experience to your audience. In addition to the primary filters such as size, technology, types, etc., there are a few facts that you may or may not know about cinema screens.
Screens are perforated to become Acoustically Transparent
Today we see the usage of perforated screens along with speakers mounted behind the screen surface because it enables localization of the delivery of the audio, i.e. speech and sound, to an appropriate area of the image. This concept essentially enhances the sense of involvement and believability in the audience ultimately taking the viewing experience to the next level for the audience. However, it is integral to know that the size of the perforation highly relies on the distance between the first row and the screen, which can be seen in the standard and micro-perforated screens.
Screens cannot be completely different – silver or white
Considering that the term, 'silver screen' is known in the community, it is true that most theatre screens aren't completely white or completely silver. In fact, they are pearlescent. It essentially means that the screen provides a comparatively better contrast and ensures the image isn't too bright for the eye. Talking the audience experience a step up, some screens are more silver so that it can make up for the dimmer projection.
For example, Digilite is a versatile 2D projector screen that has a pearlescent coating. And Prism 3D is a perfect silver projection screen that supports 2D and passive 3D projection using polarized light and provides a strong signal-to-noise ratio.
Screens use masking for different aspect ratios
Primarily, there are two aspect ratios that filmmakers are using today
1) Scope
2) Flat
What does this mean?
The scope is a wider ratio while the flat is an average modern ratio, often seen on 16:9 computer or television screens. Now the catch is that a theatre screen can't change its shape. They come in two types, scope or flat. And the viewing experience is tarnished when a flat movie is projected on a scope
screen, and vice-versa.
How to resolve this?
You can avoid this challenge by using the masking method, which means installing black curtains that can be moved around as per the adjustment for the film's aspect ratio. Masking doesn't limit but only enables you to present both scope and flat movies in the same auditorium without any hindrances.
Some screens float. Some don't.
A theatre screen is either attached to a wall or a separate frame that essentially makes it stand steady. However, when the screen is supported by a ladder, it is called a floating screen. A floating screen is designed to give space, which could pose a challenge when the screen is mounted on a wall. Floating screens are highly used in gigantic theatres, for example IMAX.
To initiate the transformation to a more advanced, feature-rich, and spectacular theatre, choose Galalite, where we have experience-led screens. Write to us at info@galalitescreens.com or call us on +91 22 2850 0681 for more information on how to make the viewing experience in your theatre to the next level.