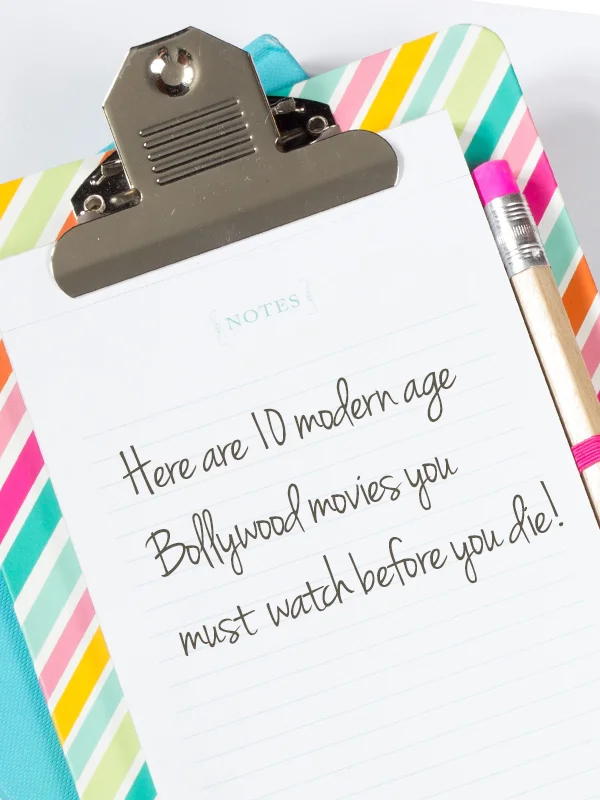 Bollywood can be a delight, if you are watching it right! Here are 10 modern age Bollywood movies you must watch before you die!
10.  Zindagi Naa Milegi Dobara
25 is an age when you have lived a quarter of your life, which is more than enough to have explored the world. But what have we actually seen until now? Did we ever quit our jobs, switch off our phones, leave all tensions behind and just travel? No. We've only been planning of this while life passed us by? This 'my bwoy' is a serious problem! We live just once but die everyday at the hands of our mundane lives. May be, it's time to explore the unexplored and let the road decide our destination.
Golden line- "Insaan ko dibbe mein sirf tab hona chahiye … jab woh mar chuka ho" – Laila
9. Queen
Queen was a commercially successful film that explored how independence can help a woman grow. But the one thing that people failed to grasp was how subtly the director had implored the mentality of the middle class Indian. How Rani's beau didn't let her dance at her friend's wedding or thought that she would never learn how to drive a car. Or how when he came back from London, he thought sweet Rani from Rajouri was not an adequate match for him anymore.
Golden line- "Mera sense of humour na bahut acha hain, aapko dheere dheere pata chalega!" – Rani
Udaan
Udaan is a classic coming of age film which represents teenage angst in a touching manner. But it also gives us a perspective about domestic abuse of another variety. A father hitting his son is not considered domestic abuse by many in our country but that's exactly what it is.  And it leaves a permanent mark on the kid as well. This was the underlying theme in the movie which people couldn't grasp.
Golden lines – "Joh lehron se aage nazar dekh paati, toh tum jaan lete main kya sochta hoon … woh awaaz tumko bhi joh bhed jaati, toh tum jaan lete main kya sochta hoon … zid ka tumhare joh parda sarakta, khidkiyon se aage bhi tum dekh paate … aankhon se aadaton ki joh palke hatate, toh tum jaan lete main kya sochta hoon." – Rohan
Rang De Basanti
Rang De Basanti needs no introduction. This movie dealt with the issues of corruption in bureaucracy but it also served as an inspiration to the youth. It reminded them that there was a time when the youth fought to the independence of India and now is also a time when the youth can change the country.
Golden lines – "Koi bhi desh perfect nahin hota … usse behtar banana padta hai." – Ajay Rathod
OMG-Oh my God!
Whenever an Indian movie tries to talk about God, it gets preachy and the audience gets bored. But OMG gets across the message of the subtle difference between faith and blind faith, retaining wit and humour throughout the movie. But it also explores how people have turned prayer and worship into a business. As rightly pointed out, we should be God-loving, not God-fearing.
Golden line- "Mere hisaab se toh Dharm ek hi kaam karta hain, ya toh wo insaan ko bebas banata hain, ya aatankwaadi"- Kanjilal
Swades
Swades explains the problem of brain drain and the dilemma of an ambitious Indian in a subtle way. But it also touches upon the issue of the unsatisfactory lives the westerners live and how Indians aren't very comfortable with that kind of lifestyle.
Golden lines- "Main nahi manta hamara desh duniya ka sabse mahaan desh hai … lekin yeh zaroor manta hoon … ki hum mein kabliyat hai, taqat hai, apne desh ko mahaan banane ki" – Mohan
Dil chahta hai
Watch this movie to relive the days when friendship was all that mattered to you. Farhan Akhtar's exploration of love and friendship is one of the most beautiful ever and just seeing the guys go through various phases of life brings sheer delight to the heart.
Golden lines: "Ya toh yeh dosti gehri hai ya yeh photo 3D hai." – Sameer
Rock on!
Friends, fights and lots of rock music! A never-seen-before spectacle for a Bollywood movie, 'Rock On' set a new bench mark for Hindi movies. Guided by the feelings of ego and jealousy, we often make many reckless decisions in our youth only to repent later in life. If you too have an unfulfilled passion or a remorse of lost friendship at 25, go after it because it's never too late.
Golden lines- "Hum honge, lights hogi, ek huge audience hogi … aur hogi music jiske har beat mein, har note mein zindagi hogi … zindagi" – Aditya
Taare Zameen Par
Critically acclaimed and a box office success, this movie moved everyone to tears. The plight of young Ishan was felt by every student. But what nobody paid attention to was how it paved an easy way for parents and teachers to not only help children suffering from Dyslexia but also recognize them in the first place.
Golden lines – "Bahar ek beraham competitive duniya basi hai … aur is duniya mein sabhi ko apne apne gharon mein toppers aur rankers ughaane hai" – Nikunj
3 Idiots
However embarrassing it sounds, we still have to rack our brains to remember something as simple as the multiples of 12! And this is the biggest flaw in our educational system. We study to learn and not to understand. '3 Idiots' makes us laugh at our own shortcomings, at the Indian education system which is still plagued with the prejudices of money and grades. Education should not be about percentages, cut-offs and degrees and it MUST be available to one and all. This is what 3 Idiots is all about.
Golden lines- "Bachcha kabil bano, kabil … kamyabi toh saali jhak maarke peeche bhagegi" – Ranchhoddas